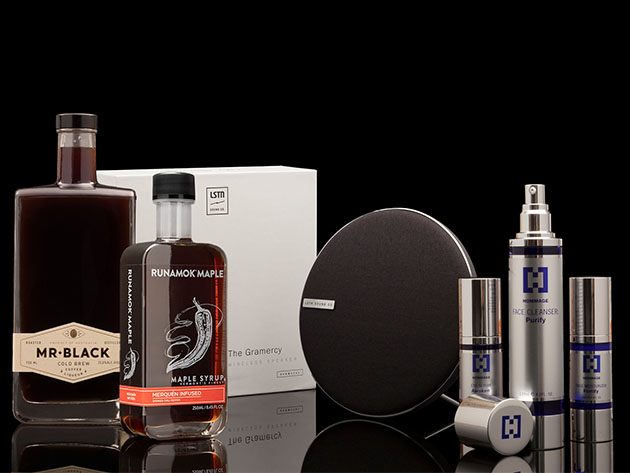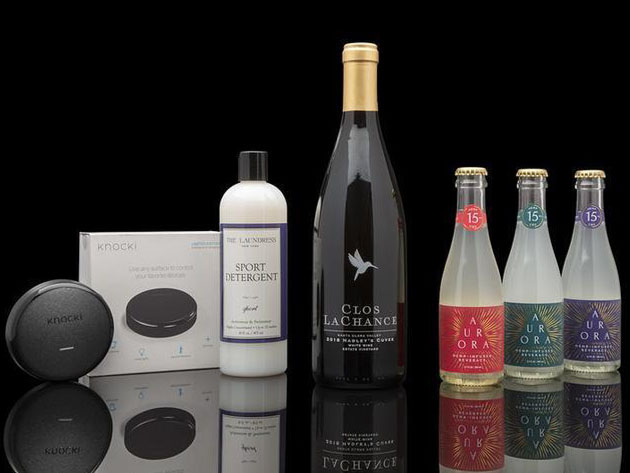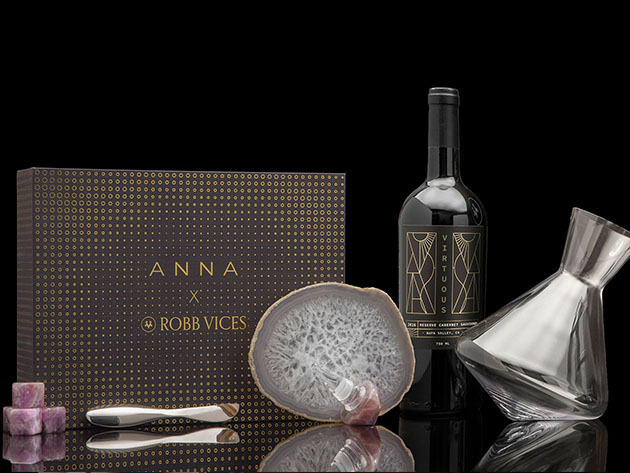 Vices Luxury Boxes: 3-Month Subscription
by VICES
Highlight Each Month with a Hand-Curated Set of Exceptional Liquor, Skincare, Accessories & More
Description
Note: Upon purchase, customers will receive a digital voucher code for their 3-Month Luxury Boxes. This code MUST be redeemed on Vices website in order for their boxes to ship.
Vices is a membership program centered on a monthly delivery of storied treasures. Every month is a new surprise which may bring you exceptional wines and spirits to enjoy, foods to taste, tools, toys, accessories, and gadgets that are worthy of your ownership. Each reflects an area of the good life that will make for the highlight of your month.
The Box of Bold: Recharge your routines with a collection that raises your sensory standards
Start each day with a pumped up skincare trio, brought to you by Hommage. Pair your playlists and podcasts with the crisp output of the LSTN Gramercy Bluetooth Speaker. Energize and elevate your mixology game with Mr. Black Cold Brew Liqueur, distilled from fine Australian roast coffee. Vermont's Runamok Maple are masters of infused syrup, their Merquén Chili Maple is a prime iteration that's sure to convince you that sweet is always better with a little spice.
At Home Kit: All essentials for making delicious drinks at home
Now more than ever, there is a particular importance to adding a level of luxury to some otherwise simple things that make up our routine at home. With this collection, there is a Knocki, Hadley's Cuvee, Elixers and Detergent that are designed to enhance your stay-at-home routine.
Wine Lover's Kit: Give your connoisseur self the perfect wine and quality accessories
As a "Welcome"" to Vices, this set includes the Virtuous California Cabernet Sauvignon, a deliciously balanced signature expression. This bottle is surrounded with heirloom designs from creators we admire. Anna NY's expert work with Amethyst stone can light up a room, but her chilling stones for wine and neat sprits are exceptionally beautiful and effective. Sempli's Crystal Decanter is the unique result of dedication to designing for ideal aeration and pour.
All purchasers must be at least 21 years of age. Proof-of-age may be requested at any time
Specs
Important Details
The customer would be paying for shipping when redeeming their voucher and then have the option of continuing the subscription at $129.95 or opt-out
Unable to ship liquor to the following states: AL, AK, HI, MS, ND, and UT
Redeem voucher on vendor's website
All purchasers must be at least 21 years of age. Proof-of-age may be requested at any time
Have questions on how digital purchases work? Learn more here
Includes
The Box of Bold

LSTN Gramercy Bluetooth Speaker
Hommage Eye Serum
Hommage Fortify Moisturizer
Hommage Purify Facewash
Mr. Black Cold Brew Coffee Liqueur
Runamok Merquén Chili Infused Maple Syrup
At Home Kit

Knocki
Clos LaChance Winery2018 Hadley's Cuvee
3x Aurora Elixirs
The Laundress Sport Detergent
Wine Lover's Kit

Anna NY Amethyst Chilling Stones for Wine/Whiskey
Anna NY Amethyst Wine Stopper
Anna NY Amethyst Cheese Plate
Anna NY Cheese Spreader Knife
Sempli Crystal Decanter
Virtuous Private Label Napa Valley Cabernet
Terms
This item is excluded from coupons.